Spencer's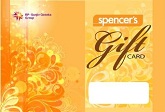 Spencer's Retail Limited is a multi-format food-first retailer providing a wide range of quality products to discerning young customers - well-travelled citizens of the world, looking out for authentic flavors and experiences in a fun-filled shopping environment. Our brand positioning – Makes Fine Living Affordable – embodies this approach, delighting shoppers with the best products and services that enable a fine living at reasonable prices while providing them with a warm, friendly and knowledgeable retail environment.

Purchase a Spencer's Gift Card for yourself or gift it to someone special !
Terms and Conditions
Physical Gift Cards / Vouchers
Gift Card comes with a limited validity period as mentioned at the time of purchase.

Gift Cards once sold cannot be cancelled, returned or refunded.

Gift Card is not a credit card or a legal tender.

Bearer of the Gift Card will be treated as owner of the Gift Card.

Fully / Partially Redeemable at all Spencer's Hypers & supers stores.

The return policy of Spencer's will be applicable to items purchased using Gift Card. In case of a replacement, goods equivalent to the value of the Gift Card can be purchased. Any amount above that will be required to be paid for by the customer.

Spencer's / Sellebrate is not responsible / liable for any loss to customer if the card is lost or stolen in any manner whatsoever; if it is lost or stolen it can't be blocked.

Gift Card is only an entitlement to credit to the extent of the load value of the card at the time of the purchase.

The load value of Gift Card cannot be encashed.

Gift Card can be used for multiple redemptions against multiple bills, equivalent to the balance available in the card.

If purchase value exceeds the balance of the Gift Card, the order balance must be paid with credit/debit/prepaid card or cash at the time of purchase.

Gift Card once purchased or recharged cannot be cancelled.

No duplicate card will be issued.

Spencer's reserves the right to modify/amend the rules or associated benefits with this card without prior intimation.

Gift Card is the property of Spencer's Retail Ltd to whom it should be returned on request.

Spencer's shall not be liable and responsible for any unauthorized and/or fraudulent purchase/s made using the card. The holder of Gift Card shall be solely responsible for the safe custody of the Gift Card and the credentials mentioned on it.
How and Where to Use
Physical Gift Card is redeemable at all Spencer's Hypers & supers stores.
Check Balance
For balance enquiry & expiry, SMS SPNGC 16 digit card number to 9841646669 or call us at 1800 266 0134 (toll free operational-8.00a.m-10p.m all days) or click

https://spencers.giftbig.com/balenq